The Connecticut Agricultural Education Foundation awards scholarships to Connecticut student(s) each year who are pursuing a career in agricultural education and/or have goals to further agriculture across the state. The scholarship can be used to defray the cost of tuition, room and board, books and other academic charges.
2017 CTAEF Scholarship Winners
The following two people were selected to receive a 2017 Connecticut Agricultural Education Foundation's annual scholarship. Each were awarded $1000.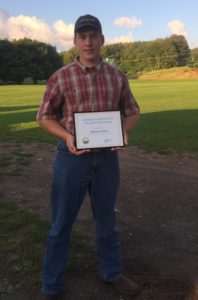 Matthew Sniffen of Litchfield, CT
Matthew is majoring in Agricultural Resource Economics at UConn and will be graduating in 2019. He served as Vice President of the Litchfield County 4-H Fair Association in 2015 and 2016 and served at the CT FFA Association State Sentinel in 2015-2016. He has earned his American FFA Degree and is an Eagle Scout. His future goal is to earn his Master's degree and certification in agricultural education to teach in a high school. He currently works at Mountain View Farm in Litchfield.
Amy Pruner of Newtown, CT
Amy is enrolled in UConn's Ratcliffe Hicks School of Agriculture, majoring in Applied Science. She is a graduate of the Woodbury FFA Chapter and was a national finalist for an Equine Placement Proficiency Award. She is actively involved in Fairfield County's 4-H and currently employed at Sabill's Morgan Horse Farm in Southbury, CT. Her long term goal is to own a horse farm where she can train horses and teach students how to ride.
Congratulations to this year's winners!
The Connecticut Agricultural Education Foundation Announces its 2016 Scholarship Winners!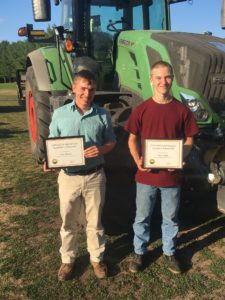 Both of the following deserving recipients received a $1,000 scholarship in 2016.
Conor Smith, of North Granby, Conn., is extremely active in Hartford County 4-H and is a recent graduate of the Suffield Regional Agriscience Program. He competed nationally in the FFA Livestock Evaluation and Nursery Landscape Competitions. In addition to showing goats, he has also brought them to a local nursing home. He has worked at House Of Hayes Dairy for the last six years gaining experience with cattle, goats and pigs. He plans to attend the University of New Hampshire to become a licensed arborist.
Corey Thomas, from Ivoryton, Conn., is currently working towards his masters in Agriculture Education at the University of Connecticut. In the last few years he has worked at a variety of farms, including an aquaculture facility in South Carolina, a vegetable farm in Ghana and a diversified livestock farm on Martha's Vineyard. He has served as a student mentor, worked as a writer at the UConn extension office in Vernon and worked as a vet assistant at the Ellington Center Animal Clinic.
2015 CTAEF Scholarship Recipients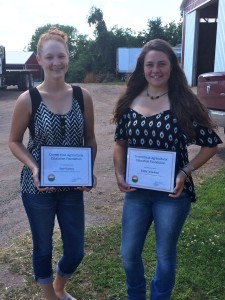 CTAEF was please to award the following deserving recipients with a $1,000 scholarship in 2015.
Skye Budney is a recent graduate of the Lyman Memorial High School Regional Agriculture Program. She has worked since 2012 as the Show Cattle Specialist and Assistant Herd manager of Four Winds Beef Farm in Lebanon. This year she is also a member of the sales team at Mackey's Farm, Pet and Garden Center. As an active member of her FFA chapter and the Lebanon 4-H Dairy and Beef Club, she has been focused on opening an agricultural business in the future. She believes that even "small steps, such as buying from a farmer's market, can ensure the future of Connecticut's viable agriculture." She will be attending the Quinebaug Valley Community College in the fall to earn her associate's degree. She then plans to transfer to the University of Connecticut to earn a bachelor's degree in agriculture business and marketing. Following, she will pursue a master's degree in business.
Emily Laflamme is recent graduate of the Suffield Agriscience and Technology Program. She has served as the chapter vice president and secretary and was also the district chair. In June, she was elected as the Connecticut State FFA Treasurer. She is extremely active in the Granby 4-H Club and has qualified and competed in the Hartford County 4-H Fair Premier's Showmanship Competition for the lass three years. She continues to serve as an inspiration for students to be part of the agriculture industry, particularly in the area of horticulture. She will be attending the University of Connecticut in the fall as a horticulture major.
2014 CTAEF Scholarship Recipients
The Connecticut Agricultural Education Foundation was pleased to award two Connecticut students, each with a $1,000 scholarship in 2014. Allison Valluzzo, of Brookfield, Conn., and Jaimie Simmons, of Middletown, Conn., were this year's lucky recipients. Both attended the annual CTAEF golf tournament to receive their award. See below for pictures.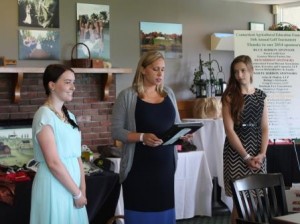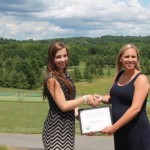 Allison Valluzzo is a high honors student and member of the Woodbury FFA Chapter at Nonnewaug High School. She is the 2014 FFA Small Animal Care and Production State Proficiency Winner, serves as vice-president of the Happy Hoofers 4-H Club and works at both Valley Veterinary Hospital as a veterinary technician assistant and Martha's Vineyard Canine Resort as a kennel assistant. Allison believes that being enrolled in an agriculture education program and learning about the FFA has contributed to her success. She will be attending the University of Connecticut in the fall as an animal science major and looks forward to someday teaching people "how to preserve their environment and their future."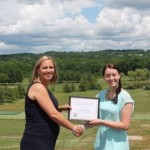 Jaimie Simmons is an honor roll student enrolled in the Middletown High School Regional Agriculture Program. She has participated in National FFA Poultry and Livestock Evaluation career development events, is a member of the National Honors Society and works at Manes and Motions Therapeutic Riding Center. She believes that "spreading the word about the importance of agriculture would serve to educate the upcoming leaders of America and is a step in leading the future of the world in the right direction." She will be attending the University of Connecticut in the fall as an animal science major.
Maria Paradis: CT Agricultural Education Foundation's 2013 Scholarship Recipient!
Congratulations to Maria Paradis, who was awarded CTAEF's 2013 scholarship! Maria attends the University of Connecticut (UConn) where she double majors in Animal Science and Pathobiology. She keeps herself very busy at UConn participating in a number of extracurricular activities, including interning at the UConn Dairy Barn, Poultry Barn, Livestock Unit; president of the UConn EcoGarden Club; member of the UConn Pre Veterinary Club; and participant in both the UConn Dairy Show and UConn Little International Livestock show. Maria enjoys learning about the normal and disease states of animals and is passionate about the health and well-being of farm and companion animals. Congratulations Maria! We wish you the best of luck in your future endeavors.
CT Agricultural Education Foundation Announces 2012 Scholarship Recipients!!
The Connecticut Agricultural Education Foundation was pleased to award the 2012 Scholarship recipients – Katie Molodich and Abigail Smith!
Abigail Smith, from Lebanon, has completed high school requirements as a homeschooled student. Abigail has been very active in the 4-H program participating as president of her local club, manager of Goat Week at New London County 4-H Camp and Windham-Tolland 4-H Camp as well as being selected as the 2011 Connecticut Delegate to National 4-H Conference. Abigail also organized the "Love Your Neighbor" Event in 2011 and 2012 in addition to maintaining the flag pole garden on the Lebanon Town Green. Abigail will be attending Three Rivers Community College majoring in Small Business and Entrepreneurial Studies.
Katie Molodich graduated from Killingly High School's Agricultural Education Program with a major in Plant Science. As an active member of her FFA chapter, she served as a chapter Treasurer and participated in the Agricultural Issues and Nursery/Landscape Career Development Events. Katie has been an active participant at the Ekonk Community Grange serving as vice president, steward and youth chairperson. She has also served on the Connecticut State Grange Youth Committee. She will be attending the University of Connecticut in the fall, majoring in Horticulture.
2011 Scholarship Recipients:
Jasmine Padilla and Elizabeth Tomasco were awarded 2011 CTAEF Scholarships.
These two students believe in the future of agriculture and each is working toward high goals.  They are all well-deserving recipients of the 2011 Connecticut Agriculture Education Foundation Scholarships and we wish them good luck in the future.
For further information about CTAEF scholarships, please contact Martha Johnson Harlow at martha@cteaf.org.