Thank You!
CTAEF thanks all who have contributed to our Annual Appeal! Your contribution helps us to support programs that educate Connecticut students and consumers about agriculture, and also to support the state's ag educators. If you'd like to contribute to our Annual Appeal, please click here to learn more.
Supporters: Beckett Farms; Betsey A Crosswell, DMD; Durham Fair Foundation; Van Wilgen's Garden Center; Steve Rickenbacher and Family; Eddie Shore Enterprises
Friends of CTAEF: Prides Corner Farms, Inc.; Snow's Farm LLC; Burr Farms
CT Farm City
CTAEF was excited to support a Farm City event in October 2017. More than 100 students from Norwich visited Blue Slope Farm to learn more about agriculture.
2017 CTAEF Scholarship Winners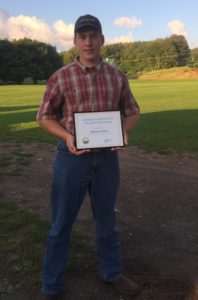 The Connecticut Agricultural Education Foundation is pleased to announce the 2017 winners of its annual scholarship. This year's recipients are Matthew Sniffen (pictured left), of Litchfield, Conn., who is majoring in Agricultural Resource Economics at UConn, and Amy Pruner, of Newtown, Conn., who is enrolled in UConn's Ratcliffe Hicks School of Agriculture, majoring in Applied Science. Each will be awarded $1000.  Learn more about this year's recipients.
2017 Ag Literacy Event
Connecticut Agriculture in the Classroom is pleased to announce its 2017 Connecticut Ag Literacy Event. This event supports its mission of fostering awareness, understanding and appreciation of agriculture and the food, fiber, flower, forestry and fuel systems. During 2017, volunteers throughout the state will go into classrooms to read a book with an agricultural theme and talk to students about agriculture. This year's featured book is:

National Geographic Readers: Seed to Plant
By Kristin Baird Rattini
Learn more about this year's program
For 2017 Ag Literacy participants, we appreciate your completion of a survey on the program to help us evaluate the program for future years. Links to surveys for teachers and reader volunteers can be found below. Thank you!
AmazonSmile
Do you shop on Amazon? If so, did you know that Amazon now offers the AmazonSmile program, which donates 0.5% of the price of your eligible AmazonSmile purchases to a charitable organization of your choice… and CTAEF is one of those charitable organizations! So please considering making your future purchases through AmazonSmile and selecting the Connecticut Agricultural Education Foundation as your charitable organization of choice. AmazonSmile links right up to your existing Amazon account, and once set up, you'll be prompted to shop on AmazonSmile versus Amazon every time you visit Amazon.com and CTAEF will already be set up as your recipient. Happy shopping!
White-Reinhardt Fund for Education
The White-Reinhardt Fund for Education is a special project of the American Farm Bureau Foundation for Agriculture® (AFBFA) in collaboration with the American Farm Bureau® Women's Leadership Committee. The two components of this program include the educator's scholarship and the Mini-Grant program. Click here to learn more about these opportunities.
CTAEF is on Facebook! Check us out here!