CTAEF Silent Auction: Request for Items!
CTAEF will again be holding a silent auction at the 2014 Connecticut Farm Bureau Annual Meeting. This year's Annual Meeting will be held at the Villa Capri in Wallingford on Friday, November 14, 2014. CTAEF is currently seeking donation items to be used in the auction. Items must be received no later than Friday, November 7, 2014. Funds raised contribute to CTAEF programs throughout the year, including ag in the classroom activities, our annual scholarship fund and Farm City events. For more information, or if you'd like to donate, please contact Kristie Schmitt at Kristie@ctaef.org.
Now Available! 2014 Ag Classroom Calendar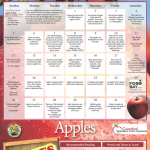 Each month, CTAEF will be posting an agriculturally themed calendar page, filled with ag-related classroom activities, ag facts and trivia and suggested reading materials. Feel free to download and print copies of these calendar pages to use in your classroom! October is now available. Click here to view.
Marcia Johnson Awarded Connecticut AgriScience Excellence Award!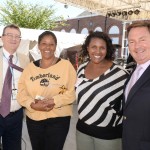 CTAEF congratulates Marcia Johnson, of Meriden, Conn.,  who was presented with the second annual Connecticut AgriScience Excellence Award from the Eastern States Exposition and its Connecticut Trustees at The Big E in West Springfield, Mass., on Monday, Sept. 22.
This award recognizes a teacher who works with outstanding effectiveness to promote the awareness of the critical role of agriculture in our lives in the classroom environment. Johnson, a veteran 5th grade teacher, will use the $500 grant to begin a garden at the Nathan Hale Elementary School in Meriden where she currently teaches. Learn more
2014 CTAEF Scholarship Winners!
The Connecticut Agricultural Education Foundation was pleased to award two Connecticut students, each with a $1,000 scholarship, this year. Allison Valluzzo, of Brookfield, Conn., and Jaimie Simmons, of Middletown, Conn., were this year's lucky recipients. Both attended the annual CTAEF golf tournament to receive their award. Learn more about this year's recipients
16th Annual CTAEF Golf Tournament
This year's golf tournament was held on Thursday, June 26, 2014, at Lyman Orchards in Middlefield, Conn. Thanks to all of our sponsors and all that participated in this year's tournament! Also a special thank you to Lyman Orchards for their continued support of our annual golf tournament. Click here for a listing of our sponsors and to see pictures from this year's event.
Farm Businesses Encouraged to Sponsor Barnyard Bookcases for City Schools
CTAEF is proud to sponsor the Connecticut Farm Bureau Women's Leadership Committee's (WLC) Barn Bookcase program! The WLC's goal is to place a barn-shaped bookcase and a dozen agriculture books in the library of 16 urban elementary schools this fall. CTAEF has committed $2,000 to purchase books to fill the bookcases. Farm businesses are encouraged to sponsor a bookcase, at just $150.00, to cover the cost of the bookcase materials. If interested, click the following link: Bookcase Flyer and Donation Form
2014 Ag Literacy Event
Connecticut Agriculture in the Classroom is pleased to announce its 2014 Connecticut Ag Literacy Event. This event supports its mission of fostering awareness, understanding, and appreciation of agriculture and the food, fiber, flower, forestry and fuel systems. During 2014, volunteers throughout the state will go into classrooms to read a book with an agricultural theme and talk to students about agriculture.
This year's featured book is:
The Beeman written by Laurie Krebs, illustrated by Valeria Cis
Learn more about the 2014 Ag Literacy Event
White-Reinhardt Fund for Education
The White-Reinhardt Fund for Education is a special project of the American Farm Bureau Foundation for Agriculture® (AFBFA) in collaboration with the American Farm Bureau® Women's Leadership Committee. The two components of this program include the educator's scholarship and the Mini-Grant program. Click here to learn more about these opportunities.
CTAEF is on Facebook! Check us out here!