2016 CTAEF Scholarship Now Accepting Applications!
Each year, the Connecticut Agricultural Education Foundation awards scholarships to Connecticut student(s). The scholarship can be used to defray the cost of tuition, room and board, books and other academic charges. This year's application is now available!  Click here to complete an application. In addition to completing the application, you must scan and email to Tera@ctaef.org the following documents: Essay (topic: What role do you hope to play in improving the future of CT Agriculture?); Resume (not more than 2 pages); High School/College Transcript; and proof of college acceptance (if currently enrolled in high school). Applications must be received by 12 midnight on Sunday, May 1, 2016. Contact Martha@ctaef.org with any questions.
2015 Ag Literacy Event
Connecticut Agriculture in the Classroom is pleased to announce its 2015 Connecticut Ag Literacy Event. This event supports its mission of fostering awareness, understanding, and appreciation of agriculture and the food, fiber, flower, forestry and fuel systems. During 2015, volunteers throughout the state will go into classrooms to read a book with an agricultural theme and talk to students about agriculture. This year's featured book is:
The Apple Orchard Riddle written by Margaret McNamara and illustrated by G. Brian Karas
Learn more about this year's program
AmazonSmile
Do you shop on Amazon? If so, did you know that Amazon now offers the AmazonSmile program, which donates 0.5% of the price of your eligible AmazonSmile purchases to a charitable organization of your choice… and CTAEF is one of those charitable organizations! So please considering making your future purchases through AmazonSmile and selecting the Connecticut Agricultural Education Foundation as your charitable organization of choice. AmazonSmile links right up to your existing Amazon account, and once set up, you'll be prompted to shop on AmazonSmile versus Amazon every time you visit Amazon.com and CTAEF will already be set up as your recipient. Happy shopping!
CTAEF Announces 2015 Scholarship Recipients!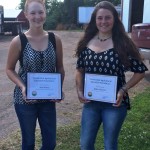 The Connecticut Agricultural Education Foundation is pleased to announce the recipients of our 2015 scholarship are Skye Budney, of Lebanon, Conn., and Emily Laflamme, of Granby, Conn. Each received a $1,000 award to apply towards their higher education. Learn more about this year's recipients.
Hop on Education
Thank you to all who attended CTAEF's Hop on Education fundraiser at Hooker Brewery on July 10! The event was a success and will help CTAEF continue agricultural education activities throughout the year.
2015 Connecticut AgriScience Award Grant
The Connecticut Corporators to the ESE, the Big E, award grants for special projects. Their AgriScience award for 2015 is a $500 grant awarded to an elementary school teacher to fund a special project involving agriculture in any form as part of his or her class curriculum during the school year. Teachers are encouraged to consider how they might expand the learning experience to benefit students beyond their own classroom. This $500 is payable in September to the school of the selected Grant Award winner. Learn more
Marcia Johnson Awarded Connecticut AgriScience Excellence Award!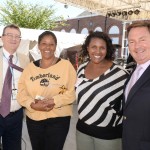 CTAEF congratulates Marcia Johnson, of Meriden, Conn.,  who was presented with the second annual Connecticut AgriScience Excellence Award from the Eastern States Exposition and its Connecticut Trustees at The Big E in West Springfield, Mass., on Monday, Sept. 22.
This award recognizes a teacher who works with outstanding effectiveness to promote the awareness of the critical role of agriculture in our lives in the classroom environment. Johnson, a veteran 5th grade teacher, will use the $500 grant to begin a garden at the Nathan Hale Elementary School in Meriden where she currently teaches. Learn more
Farm Businesses Encouraged to Sponsor Barnyard Bookcases for City Schools
CTAEF is proud to sponsor the Connecticut Farm Bureau Women's Leadership Committee's (WLC) Barn Bookcase program! The WLC's goal is to place a barn-shaped bookcase and a dozen agriculture books in the library of 16 urban elementary schools this fall. CTAEF has committed $2,000 to purchase books to fill the bookcases. Farm businesses are encouraged to sponsor a bookcase, at just $150.00, to cover the cost of the bookcase materials. If interested, click the following link: Bookcase Flyer and Donation Form
White-Reinhardt Fund for Education
The White-Reinhardt Fund for Education is a special project of the American Farm Bureau Foundation for Agriculture® (AFBFA) in collaboration with the American Farm Bureau® Women's Leadership Committee. The two components of this program include the educator's scholarship and the Mini-Grant program. Click here to learn more about these opportunities.
CTAEF is on Facebook! Check us out here!